Clinton County Port Authority Recognized Its Vital Partnerships During Economic Development Week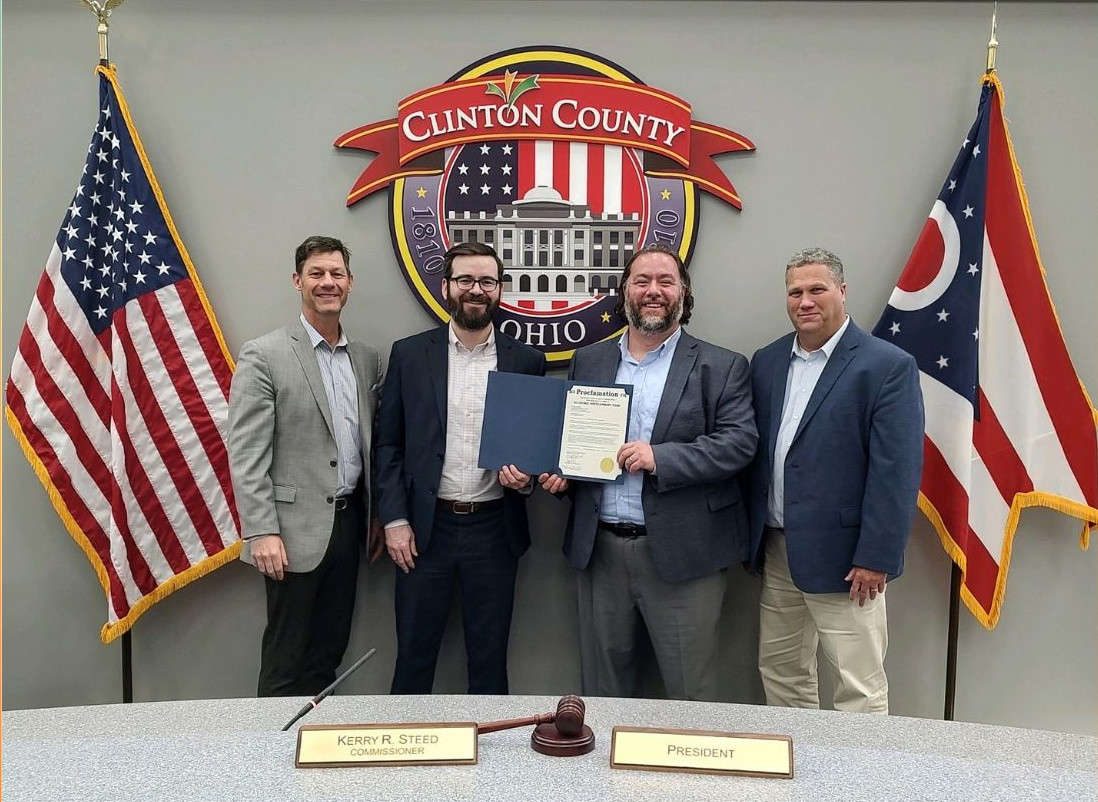 Successful economic development is a team effort. In Clinton County, Ohio, stakeholders and agencies coordinate efforts to achieve an economically vibrant and desirable community brimming with quality of place. During Economic Development Week (EDW), May 8–12, Clinton County Port Authority (CCPA) was pleased to recognize the work of its valuable partners.
"Why Economic Development Week is important is it allows all of us an annual reminder to recognize the vital work that all of our local, regional, and state economic development partners do every day," said Alex Beres, CCPA Executive Director. "If we didn't commemorate this week, we'd be neglecting the tremendous effort put forward by our partners and leaving their economic development story unsung."
In April, Josh Roth joined the CCPA as the Economic Development Director, bringing over ten years of economic and housing development experience to the team. "The outcomes of a successful economic development program are simple: adding new job opportunities, attracting capital investment, and increasing per-capita income. It's the work to achieve those outcomes that is complex."
"The Port Authority is lucky to have great partners throughout the community who are committed to the daily work, whether it be addressing barriers to employment, revitalizing neighborhoods and our central business districts, or improving the infrastructure we all depend on," continued Roth. "A lot of effort goes into maintaining and improving the competitiveness of our community – all with the goal of building a thriving place to live, work, and play."
CCPA Partnership Highlights for EDW
THEREFORE, BE IT RESOLVED, that the Administrator and Commission of Clinton County do hereby recognize May 8 - 12, 2023, as "National Economic Development Week" in Clinton County and remind individuals of the importance of this community celebration which supports the expansion of career opportunities and improving quality of life. This Board of Clinton County Commissioners have hereunto subscribed their names and have caused the Official Seal of Clinton County to be hereunto affixed in on this 1 day of May, 2023.
The work of maintaining and developing an appealing and vibrant downtown core is vital to attracting new business to any community. CCPA supports the revitalization and placemaking work done by Main Street Wilmington and the Clinton County Regional Planning Commission and appreciates the supportive marketing strategies of the Clinton County Convention & Visitors Bureau and the Dayton Development Coalition.
In addition to crafting a vision for Downtown Wilmington, Clinton County Regional Planning Commission's work includes strategic planning with the current land use study for the I-71 interchanges at US 68 and OH 73.
In partnership with the Community Improvement Corporation (CIC) of Wilmington, the Port Authority works to get real estate on the market for potential industrial development.
Small business is important to the Port Authority: 98 percent of all businesses in Ohio are small businesses, and those businesses employ half of all workers in the state. CCPA partners with the Ohio Small Business Development Center at Miami Regionals (MUSBDC) in Clinton County, where in just the first four months of FY23, saw seven businesses start-ups and eight commercial loan approvals totaling over $4.5 million!
A skilled workforce has the economic mobility and higher earning power to support themselves and their families, offers businesses the workers they need to compete in the global economy, and provides communities with a more substantial tax base to maintain and improve their quality of life. That's why CCPA proudly partners with the Wilmington-Clinton County Chamber of Commerce, OhioMeansJobs Clinton County, and the Southern Ohio Educational Service Center in the work of the Clinton County Workforce Collaborative, which tackles the critical and multi-faceted issues surrounding workforce development, retention, and recruitment.
For More Information:
Clinton County Port Authority is the first stop for businesses looking to expand into Clinton County and local businesses looking to grow. The Port Authority is the designated economic development organization for Clinton County, and all county development efforts are now concentrated through it. Discover how CCPA focuses resources at strategic development locations, like the Wilmington Air Park, downtown Wilmington, and our interstate gateways at Route 68 and Route 73. Contact CCPA today!